Sports and Entertainment Marketing
Sports & Entertainment Marketing is a unique and innovative course designed for students with an interest in the sports and entertainment industry.
This course stresses the utilization of fundamental marketing concepts and will include an orientation to the sports and entertainment industry of professional and amateur sports, movies, music, the arts, and TV.
Marketing strategies along with topics in sponsorship, ethics, pricing, marketing research, endorsements, and promotions will be part of this course.
Sports & Entertainment Marketing Syllabus
http://elearn.roundrockisd.org
*Please check the assignment page to see what you have missed due to a class absence and/or see me upon your return to school.
*Late work will have 10 points deducted PER CLASS DAY the assignment is late. A late grade is better than a zero.*Cheating will result in a zero. The first offense will result in parent contact and the opportunity to complete an alternate assignment for a maximum grade of 60. You will also receive a referral which will go on your permanent record.
Powered by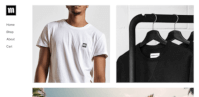 Create your own unique website with customizable templates.